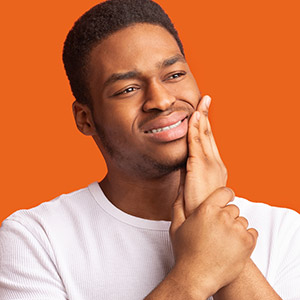 When you see your dentist about mouth pain, you expect to hear that it's a decayed or fractured tooth, or maybe a gum infection. But you might be surprised if your dentist tells you there's nothing going on inside your mouth to cause the pain.
It's not that far-fetched: The pain could be originating elsewhere. This is known as referred pain, where pain radiates from its origin to another part of the body.
Unless there's an obvious oral cause for the pain, it's best not to undertake any treatment involving the mouth until we've pinpointed the actual cause. That said, the cause is usually not too far away.
Facial nerve disorders. The trigeminal nerve courses on either side of the face from the upper skull through the cheeks and ends around the lower jaw. But if portions of the nerve's protective sheathing become damaged, the slightest touch on the face could trigger prolonged pain. Because of its proximity to the jaw, the pain can often be misidentified as a toothache.
Jaw joint pain. When joints connecting the lower jaw to the skull become traumatized and inflamed, a condition known as Temporomandibular joint disorder (TMD), the pain can radiate toward the jaw. In some cases, the person may easily mistake the muscle pain and spasming for a toothache.
Ear infection. As with TMD, your "toothache" may actually stem from an ear infection or congestion radiating pain into the jaw. It can also happen in the opposite direction—ear pain could actually be the referred pain of an infected back tooth—emphasizing the importance of precisely determining the originating source of any pain in the jaws or face.
Sinus pain. The large maxillary sinuses are located on either side of the face just above the back of the upper jaw. Because of its proximity, pain from a sinus infection can seem to be coming from one of the back molars. And as with ear infections, frequent sinus infections could in fact be caused by an infected tooth penetrating through the sinus floor.
These and other examples of possible referred pain illustrate how "tricky" a presumed toothache can be. Finding the true source of oral or facial pain will ensure you receive the proper treatment for lasting relief.
If you would like more information on oral or facial pain diagnosis and treatment, please contact us or schedule an appointment for a consultation.
This website includes materials that are protected by copyright, or other proprietary rights. Transmission or reproduction of protected items beyond that allowed by fair use, as defined in the copyright laws, requires the written permission of the copyright owners.